Need a new writer? Send for a supersub
'Bill Bryson is laying down his pen and retiring from books' Ben Macintre wrote in The Times on October 16 2020. The remainder of this entertaining piece continued as follows:
The funny, insightful, amiable, furry and hugely popular American writer will be missed, and nowhere more than here, for he is an alumnus of that unsung university of literary talent: The Times subs' desk.
Sub-editors are the boiler room engineers of newspapers, the experts who take out the mistakes, fit the headlines, correct the spelling, improve the grammar and frequently save people like me from looking extremely stupid. They can be pedantic. They are essential. They love words. And they sometimes emerge as great writers.
Sub-editors get an unfairly bad press. In his novel Towards the End of the Morning, former journalist Michael Frayn described the sub's job as: "Check all facts and spellings. Cut the first and last sentences and any adjectives. And remove all attempts at jokes."
This is a calumny. Bryson was a sub on the business section of this newspaper for several years in the early 1980s, and later described the experience as 'the best way to learn how to become a writer.' Among his predecessors were Jan Morris, then James, the travel writer and historian, a sub-editor on the paper's home and foreign desk in the early 1950s.
Not everyone made the grade. Charles Dickens never got through the door: his uncle, John Henry Barrow, was on the staff of the paper and tried to get his 'clever nephew' a job but was told there was 'no vacancy'. Rudyard Kipling was a sub on the rather less distinguished Civil and Military Gazette in British India in the 1880s. Guy Burgess did a trial as a sub-editor on the home desk in 1935, but was not offered a job — a decision that the editors would have taken even faster had they known he was already a Soviet spy.
But the most celebrated Times sub-turned-writer was Graham Greene, who joined The Times in 1926. The world of the sub-editor was somewhat different then. Tea and cake were laid out by servants at exactly 5 every afternoon. Greene's colleagues included a war veteran with a metal plate in his head, 'a small elderly Scotsman with a flushed face and a laconic humour [who] drove a new sub-editor hard with his sarcasm', and a young man named Stokes with a morbid fear of sardines who 'was plump & drank a lot of olive oil to keep him so'. Greene's boss was so polite he apologised every time he asked his underling to do any work. In his copious free time, Greene worked on his first novel, The Man Within.
'I was happy on The Times, and I could have remained happy there for a lifetime,' he wrote 40 years later. 'I remember with pleasure the slow burning fire in the sub-editors' room, the gentle thud of coals as they dropped one by one in the old black grate.'
He got through his subbing shift with the help of two kippers, a pot of tea and a slice of syrup roll. Greene believed that the skills he learnt as a sub were central to his writing: 'I can think of no better career for a young novelist than to be for some years a sub-editor on a rather conservative newspaper,' he wrote. 'He is removing the clichés of reporters; he is compressing a story to the minimum length possible without ruining its effect.'
In December 1929, with a novel published, Greene announced he wanted to write fiction full-time. The editor was incredulous that 'one of our best and quickest sub-editors' wanted to leave, and tried to tempt him to stay with the promise that he would one day be allowed to write a third leader. Fifty years later, Greene reflected wryly that if he had given in to the blandishments of The Times 'my whole life would have been changed disastrously for the better'.
The subs' bench occupied by Bryson in the 1980s was also a leisurely place. In Notes From a Small Island, he wrote that that "on the Company News desk where I worked as a sub-editor, the five-man team would wander in about two-thirty and spend most of the afternoon reading the evening papers and drinking tea while waiting for the reporters to surmount the daily challenge of finding their way back to their desks after a three-hour lunch … At about half-past five, we would engage in a little light subbing for an hour or so, then slip our arms into our coats and go home."
Yet Bryson credits his success as a writer to his years as a sub: 'Your focus is to get rid of flabbiness and try to compress things into the simplest, most direct way of expressing them.'
That pithiness was on display in Bryson's hilarious account of The Times in the grip of the print unions. Vince, a member of the National Society of Operative Printers and Assistants (NATSOPA), presided over the wire room: '5ft 6ins of wiry malevolence in a grubby T-shirt'. Every evening, Bryson would nervously knock on Vince's door to ask if he might find the Wall Street report wire copy 'among the reams of unwatched paper tumbling out of his many machines'?
'I don't know wevver you noticed,' Vince would say, 'but I'm eating pizza.'
'Well, then, how about if you just tell me where it is and I get it myself?'
'You can't touch nuffink in here, you know that.'
The all-powerful unions, the kippers and the coal fires are no more, but the craft of subbing remains as vital as ever.
So, as you read these words, remember the sub-editor who arranged them there, and who so often makes bad writing gooder.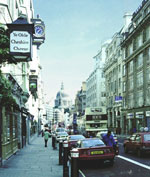 The takeover of the Daily Express by Trinity Mirror only produced one winner, the shrewd vendor Richard Desmond.
     To some observers The Daily Express under Desmond's management had effectively become the UKIP Daily News. While that may  be unfair, the paper was certainly more right wing now than it ever was when controlled by its founder, Lord Beaverbrook.
     Bringing both titles together under the same holding company – Trinity Mirror became Reach – was unthinkable in the 20th century. But as news is now dominated by the Internet, the sales and advertising revenue of the once all-powerful titles of the past have been in free fall and the impossible has become reality.
     As Desmond departed, Express readers understandably feared that their beloved title would be hauled left by the Mirror, not so red as it was in the halcyon days of Hugh Cudlipp and Cecil King, but still clearly pink. A bigger threat than political allegiance was the jobs lost to make the takeover  possible.
     Britain's national newspapers are being pushed towards extinction by information technology, fake news and Facebook. Publishers are forced to save money, so stories are frequently recycled without checking. So the fine reputation British journalism once had cannot be earned today. This makes it  a good time to share a few cutting from the good bad old days.