Dennis Nilsen dies in prison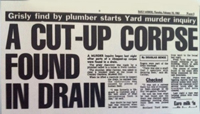 Serial-killer Dennis Nilsen has died in Full Sutton Prison near York aged 72. Although there was nothing suspicious about his demise, it will, like all custody deaths, be investigated by the Prisons and Probation Ombudsman. He was not thought to be ill or suffering from a fatal illness.
The Home Office has always refused to release Nilsen's 1,000-plus page autobiography and it will be interesting to see what happens to it now. It was mentioned by him in a brief TV interview with a criminal pyschologist, and in the autumn of 2013, various written passages were posted on a website: http://dennisnilsen.blogspot.co.uk/. Many will be clamoring for its release.
One of the on-line extracts appeared to be a homosexual fantasy drawn from the time when Nilsen was serving in the army. This was later replaced by less salacious material. There remains an anonymous introduction, and another from Nilsen himself that explains that the posts were designed to assist the reader in 'understanding the Orientation in my past life'.
Nilsen's London killing spree was between December 1978 until two weeks before he was arrested in February 1983, a time when institutional homophobia was rampant, allowing him to operate virtually without fear in gay pubs, largely in Soho.
There's some confusion over the number of his victims: as he was being driven back to Hornsey police station, he told police it was 15 , but later said it was the first number that came into his head. He was charged and found guilty of six murders and two attempted murders at the London Central Criminal Court in November 1983, but it could have been more.
Had they followed up various complaints from intended victims who got away, the Metropolitan Police could have saved a number of lives by arresting him earlier. Having said that, the murder inquiry masterminded by Detective Chief Inspector Peter Jay, who died a few months before Nilsen, was exemplary and owed much to the work of the pathologist, the late Professor David Bowen.
The general public's fascination with sordid cases like this has meant that there have been a number of TV documentaries over the years, most recently by Emporium Productions for CBS Reality and Crackit Productions for Channel 4. There have been books, too, including the one I wrote with the late Brian McConnell which took most of my professional time from the day of Nilsen's arrest until his trial.
Nilsen was born in 1945 and grew up in a strict Catholic household in Fraserborough which after the shock death at sea of his grandfather Andrew Whyte, was dominated by women: his mother, grandmother and aunt. While the Home Office has so far successfully muzzled his autobiography, Nilsen was  able to say how after he saw his grandfather's body he began to question all aspects of life and death.
Since Nilsen, more spectacular serial killers in terms of the number of victims have come to light, among the Greater Manchester family doctor Harold Shipman, convicted of 15, but probably responsible for 218 and possibly up to 250. He featured in the CBS series the week before Nilsen.
In the US, Gary Ridgway confessed to murdering 71 women; American gay killers include John Wayne Gacy with 33 victims, and Jeffery Lionel Dahmer who, with 17, is frequently compared to Nilsen. Andrei Chikatilo, the Butcher of Rostov or the Red Ripper, was convicted of murdering 33 women. Currently at the top of the list in terms of quantity with 138, however, is Luis Alfredo Garavito, or La Bestia, who largely targeted street children in Colombia. He was originally sentenced for 1,853 years in prison, reduced to 22 after he helped police with their inquiries.
Ridgway was spared the death penalty in a plea bargain in which he revealed the whereabouts of still-missing women. Gacy and Chikatilo were both executed in 1994, the same year in which Dahmer was beaten to death by a fellow inmate in the Columbia Correctional Institution. Given the way he helped detectives at Hornsey, it would have been interesting to know Nilsen's view on the reduction of Garavito's sentence.