Dennis Nilsen to feature in Sky TV series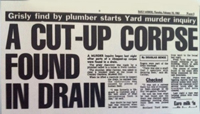 Yet another TV company has been drawn to the trail of death left by Dennis Nilsen – he's shown above in glasses on the right. Nilsen is likely to be one of a number of killers to feature in a new Sky TV series.
Nilsen is a popular TV subject and was last chosen by Emporium Productions for one of a series of films made for CBS Reality broadcast on 12 June 2017. Given that the last documentary by Crackit Productions was screened less than three years earlier, Emporium didn't offer anything new, but it took an innovative approach that allowed the well-documented case to be examined in the context of the murderer's mother.
Nilsen grew up in a strict Catholic household which after the shock death at sea of his grandfather Andrew Whyte, was dominated by women: his mother, grandmother and aunt. Although the Home Office has refused to release Nilsen's 1000-plus page autobiography, he has been able to say how after he saw his grandfather's body he began to question all aspects of life and death.
It was mentioned by him in a brief TV interview, and in the autumn of 2013, various written passages appeared on a website: http://dennisnilsen.blogspot.co.uk/. The first extract was a homosexual fantasy drawn from the time of Nilsen's army service which has since been replaced by other material. There is an anonymous introduction, another from Nilsen himself that explains that the posts are designed, he says, to assist the reader in 'understanding the Orientation in my past life'.
We hear a lot about police corruption these days with the reprehensible cover up of the Hillsborough football disaster, the murder of Stephen Lawrence and 2013′s so-called Plebgate affair which forced the resignation of Cabinet Minister and Chief Whip Andrew Mitchell.
While they haven't formally been castigated for it, in the police and the media of the early 1980s were so riddled with homophobia, that former catering corps chef and probationary police officer Nilsen was allowed to target and end the lives of lonely and impoverished young men, not all of them homosexuals.
He operated virtually unchallenged from December 1978 until two weeks before he was arrested in February 1983. The Daily Mirror's own investigations, and the book I subsequently wrote with the late Brian McConnell, took most of my professional time from the day he was arrested until his trial in November.
When he was driven to Hornsey Police Station after human remains were found blocked in his drain, Nilsen told the police everything he remembered. He didn't know precisely how many times he had killed, but because he'd decided to co-operate, did little more than pluck the number out of the air.
Whether it was 15, 16, more or less, it remained a huge investigation. The detective work that followed his arrest was exemplary and owed a lot to the work of the pathologist, the late Professor David Bowen.
Nilsen, who was born in 1945, will never be released. Since he was found guilty of six murders and two attempted murders at the London Central Criminal Court, other serial killers have come to light, some of them with many more victims, notably the Greater Manchester family doctor Harold Shipman, convicted of 15, but probably responsible for 218 and possibly up to 250. He featured in the CBS series the week before Nilsen
In the US, Gary Ridgway confessed to murdering 71 women; American gay killers include John Wayne Gacy with 33 victims, and Jeffery Lionel Dahmer who, with 17, is frequently compared to Nilsen. Andrei Chikatilo, the Butcher of Rostov or the Red Ripper, was convicted of murdering 33 women. Currently at the top of the list in terms of quantity with 138, however, is Luis Alfredo Garavito, La Bestia, who largely targeted street children in Colombia. He was originally sentenced for 1,853 years in prison, reduced to 22 after he helped police with their enquires, a good deal if you could live that long.
Ridgway was spared the death penalty in a plea bargain in which he revealed the whereabouts of still-missing women. Gacy and Chikatilo were both executed in 1994, the same year in which Dahmer was beaten to death by a fellow inmate in the Columbia Correctional Institution. Given the way he helped detectives at Hornsey, it would be interesting to know Nilsen's view on the reduction of Garavito's sentence.