Write a Novel in a Year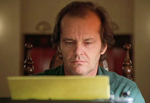 They say there's a novel in all of us. Certainly getting your life from where it started to where it is now, wherever that may be, has been a journey of sorts and some of what you've seen, done and learned might not be out of place in a novel.
But getting the ideas out of your head and on to a page or into a computer isn't easy. Even thinking about it can be intimidating. It may only start with a word, as illustrated by the image above, but getting started is probably the hardest thing of all. Remember the problems Jack Nicholson had in The Shining, pictured above left?
But after listening to those who been part of my creative writing courses over the last ten years or so, I've decided to take the plunge and offer, through the WEA, an opportunity for anybody to write a novel over the next 12 months.
Although there will be five and six week courses on planning, writing and editing, you don't even need to get out of bed. This is because the lessons will be delivered on-line in weekly two-hour sessions. You don't even need to be in the UK, only somewhere on the planet.
You don't need any qualifications, a degree or GCSE English. You don't need to know about grammar or be a good speller. All you need to do is turn on a computer, access the Internet and download some free software called Zoom. This is like Skype or FaceTime in that you can see me, I can see you and we can talk to each other.
Where appropriate, there will be back-up material downloadable from a private, but dedicated website along with some reading suggestions. The numbers on the course will be limited, probably to 25.
The WEA has organised a free taster session on Wednesday 4 April at 7 pm. This will give me an opportunity to pose the early questions that all participants need to ask themselves, explain the three parts of the programme in more detail and to answer any questions.
After that you will hopefully know whether or not, like me, you're ready to take the plunge. If you want to join the session, you need to enroll by following this link.
*****