Once upon a time there was a big bad wolf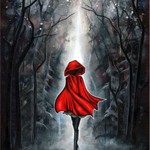 We all like telling stories and perhaps that's why creative writing classes have become so popular.
Every story we tell needs characters, and every character you might have read about needs stories. If you decide to change or adapt a traditional story you will have to change the characters.
Take a tale we all probably know: Red Riding Hood, or Little Red-cap as she is in the original Grimm's Fairy Tale. There are three main characters: an innocent young girl, her ailing grandmother and the big bad wolf.
Important characters aren't always what they seem. The young girl, like the illustration above, might not be as innocent as she sounds, the widowed grandmother might soon re-marry and move to Spain, but wolves do what wolves always do: they gobble up old ladies, get into cross dressing by putting on her nightdress and eat innocent young girls for pudding.
This is a good place to begin creative writing. Change the time and place, give the grandmother a dark side or paint Red Riding Hood not as an innocent, but as a thrusting young professional, clever and determined to reach the top at any price.
The wolf's bark may be worse than its bite. He could be vegetarian, gay or have a silly weakness for wearing women's clothes. And he, of course, could be a she. There are endless possibilities.
Red Riding Hood as interpreted by the Grimm Brothers, remember, could be hundreds, even thousands of years old. The story is a clear warning to young girls about the dangers in life they may  face. In Grimm Brother's Germany, when a girl lost her virginity she was said to 'have seen the wolf'.
Creative writing courses can take various approaches. Some of my mine have encouraged participants to produce tales of their own in a form of their choice: fiction, poetry or plays.
My next course will be in St Ives, Cornwall, but if your local community would like a free taster session, please leave a message here or call Heather White, area education manager at the WEA on 01872 320 036 or email hwhite@wea.org.uk.
Meanwhile, the group in Looe that came together last year following two WEA creative writing classes, have made their second highly successful appearance at the Looe Literary Festival. As well as being for reading, creative writing can also be for performance and the St Ives course will include that.
*****